Spring
2018
Welcome to our Spring Activity Page

This page is for all you kids who are interested in learning about dogs, how to help look after your own pet dog, and how to be safe around dogs.

Have fun and enjoy the activities. There is a lot to learn. Please keep coming back. We will put something new on this page regularly.

Parents: There is a lot of information on child safety around dogs in the links at the bottom of this page.


Jumping Sheep!!

Move your cursor over the sheep and watch them jump!
(from sheepgame.co.uk)



Note: Because this page uses scripts you may have to allow blocked content if you can't see the jumping sheep or the answers to the puzzles.
Unfortunately the jumping sheep can't be seen on the iPad because the animation is powered by Flash. Apologies.
An Easy Trick to Teach Your Dog

"Salute", or "Wave"


Puzzle: Quiz


Test your knowledge of dog behaviour

Colouring Pages Contest
An Easy Trick to Teach Your Dog
Teach your dog to raise her paw in a salute:
"Salute":

This is Samantha. She is saluting you!

How to teach your dog to "Salute":

First, have your dog sitting quietly, and make sure you have some tasty treats handy. You will also need a sticky note or a piece of sticky tape.

Put the piece of sticky paper or tape on top of your dog's nose (not on the shiny wet part) where she can see it. When you take your hand away, she will probably try to paw the piece of paper off her nose. Immediately reward her, with "Yes!", or a click if she is clicker trained. Make a fuss of her. Give her a treat.

Do this several times, rewarding her each time she touches her nose. Now you can try giving the trick a name, "Salute". Say "Salute" just as she touches her nose. Try to get her to keep her paw on her nose for a few seconds before you reward her.

You may find if you reward your dog too soon, just before she touches her nose, that you will have taught a different trick, which you could call "High Five", or "Wave".

Once your dog knows her trick very well, try for the alternative trick described above. She may be confused at first, but keep trying and she will soon get it.

Have fun teaching your dog this cute trick. People will admire her for this one, it's a bit different! And they will wonder how you taught her to do it.
this trick by Jill Sandwell and Samantha

Puzzle - True or False?
Let's see how many of these statements you can answer correctly:
1. Dogs like being teased.

2. Dogs go to doggie classes so they can go to University, get a good job, and support you in your old age.

3. When a strange dog runs up to you, you should stand very still like a tree.

4. It is safe to reach through a fence to pat a dog.

5. Dogs like it best when you are calm.

6. Dogs don't mind being disturbed when they eat.

7. Call an adult if you see a dog hurt.

8. Always walk your dog with an adult.

9. Loud noises don't scare dogs.

10. It is a good idea to over excite dogs.

When you have finished, here are the answers:

(of course, no peeking until you have finished the puzzle!)


Good luck!

1. False

2. False

3. True

4. False

5. True

6. False

7. True

8. True

9. False

10. False

puzzle produced by Julie More
When you have finished all the questions, the answers are beside them.

(but try not to look before you have finished the puzzle!)
How many did you get right? Well done!


---

Colouring Pages Contest
Loud noises can frighten a dog. He may jump on you, or bite you. This is especially true when the dog is sleeping. After all, how would you like it if somebody yelled at you when you are fast asleep, dreaming about your favourite food?

We would love to hear from you!

Click here and print out the picture that opens. Colour the picture carefully with pencils or crayons.

Then tell us why your pet is special, and what rules you have in your house to make your pet safe.

Scan or take a photo of the finished picture and send it to us at morejulie@hotmail.com with your email address. We will choose a winner each month, and post the picture in our newsletter for everybody to see.




Get to know where all the dogs live in your neighbourhood, which ones are friendly, and which ones are not too crazy about little kids. Let an adult know if you see a strange dog without an owner visiting your neighbourhood.

(from the Fido, Friend or Foe activity book)

Healthy pets are happy pets.
Your pet is very happy that you look after him so well.

---

What if You Can't Have a Dog?
Not everyone can add a dog to their family.
Perhaps your house is too small (you live in an apartment or condo), or your landlord doesn't allow you to keep a dog. Perhaps your family just doesn't have the time to exercise a dog, groom her, or take her to the vet when she is sick. Or maybe someone in your family has allergies to dogs.

Have you considered a cuddly, friendly little hamster or gerbil instead? Or even something not quite as cuddly, like a bird or a fish?

How about a rabbit or a guinea pig? They make wonderful, affectionate and fairly long-lived pets. Or a mouse or rat? They are intelligent and can be taught to do tricks quite easily. How about a hamster or gerbil? A chinchilla? Or, if the allergic person cannot tolerate any animal hair, there are pet birds. Or fish. Did you know that with patience you can actually train a goldfish to do simple tricks such as swimming through a hoop for rewards? Amazing!
Be sure to check out your local humane society or animal rescue when looking for a new pet. They frequently have many different types of animals, both large and small.
Pet Mice
Mice are sweet, pretty and friendly little pets. They come in lots of different colours and can live up to 2½ to 3 years. They are very active, particularly at night and in the early morning. Mice are very quick and agile, and if allowed will scramble all over the person who is holding them, exploring pockets and enjoying the view! They do need to be handled carefully to avoid injury, because they are very small.
Mice are pretty easy to take care of, but will need an escape-proof cage made preferably of easy-to-clean glass (aquarium) or wire, with plenty of bedding where they can make a nice warm, private nest. They feel the cold, and also the heat, so keep them away from a sunny window or heater.

Here are some useful pet mouse links for you, with lots more information on how to care for your pet:
https://www.wikihow.com/Take-Care-of-Mice
https://www.bluecross.org.uk/pet-advice/caring-your-mouse
http://www.humanesociety.org/animals/mice/tips/mouse_housing.html?credit=web_id86167332
https://www.thespruce.com/choosing-and-caring-for-pet-mice-1236741
Remember:
Pet mice attract cats and dogs; cats and dogs kill mice;
cages with tight-fitting lids keep little mice safe!
Links to our previous mini articles on small pets, in the archived activity pages:
Rabbits, Hamsters, Gerbils, Fish, Parrots & Budgies etc., Turtles

For Parents
The Blue Dog
http://www.thebluedog.org/en/
The Safe Kids/ Safe Dogs Project
http://www.safekidssafedogs.com/
"Get dog smart with Diggity the Dog! Diggity the Dog's story encompasses the number one cure for the dog bite epidemic. The story takes children on a fun walk through the neighborhood. Along the way, children encounter a whole lot of dogs in different situations. Diggity tells the "do's" and "don'ts" - right from the doggie's mouth."

http://www.liamjperkfoundation.org/talk.html
Little Liam was fatally bitten by his family's own beloved dog. This site is full of information for parents and caregivers - such as dog body language; dog stress signals; signs of anxiety; why dogs bite; Be a Tree, and more. Well illustrated.
https://drsophiayin.com/blog/entry/free-downloads-posters-handouts-and-more/
Dr. Sophia Yin's website: dog body language of fear and anxiety; how to greet, and not to greet a dog; also training tips and much more.
http://www.sciencekids.co.nz/gamesactivities.html
"Science Kids is the home of science & technology on the Internet for children around the world."
This wonderful website helps kids learn about the amazing world of science by enjoying the "fun science experiments, cool facts, online games, free activities, ideas, lesson plans, photos, quizzes, videos & science fair projects."
http://www.pbs.org/wgbh/woof/index.html
Woof! It's a dog's life. Tips and training help from "Uncle Matty"
http://www.pbrc.net/poppysplace/index.html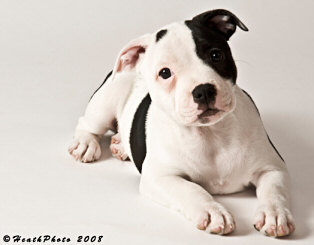 Poppy is a pit bull puppy and he has his own website where you can read about his adventures, learn about him and other puppies and dogs like him, or simply hang out and play some games.
Photo courtesy of Natalie Heath www.heathphoto.ca
Acknowledgements
Be A Tree program: The information on our Education - Dog Bite Prevention page was compiled by Doggone Safe - visit their website for more information on the Be A Tree program.
The people at the Love your dog website have very generously allowed us to reproduce some of their articles. Please visit them, there is lots to enjoy there.
The American Kennel Club (AKC) has more information, on training, dog breeds, games to play with your dog etc. Click on Search at the top of the page.
Here is a link to teaching tricks: http://akc.org/content/dog-training/tricks/

..